By Gregory R. Bevans, DDS
March 15, 2018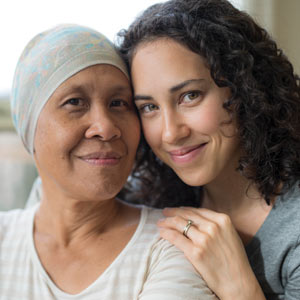 If you're facing cancer treatment, we wish you the best outcome possible. Treating this disease has advanced tremendously in recent decades, but the available options are still often challenging to endure. It will be your primary focus for the foreseeable future.
As a dental provider we also want you to be aware how the two main treatments, chemotherapy and radiation, could adversely affect your teeth and gums, especially if you're receiving radiation therapy near the head and neck. The aim of cancer treatment is to attack and destroy cancer cells to prevent their growth. Unfortunately, it can also destroy neighboring healthy cells and lead to harmful consequences in different parts of the body, including the mouth.
Salivary glands, for example, are especially vulnerable to damage during cancer treatment. This could create a situation where the mouth no longer produces adequate saliva flow, leading to a condition called xerostomia or dry mouth. Besides a lot of discomfort, restricted saliva flow can also increase your risk of tooth decay and other dental diseases. This is because saliva is the body's acid neutralizer (acid can erode tooth enamel) and its first line of defense against microbial infection.
To guard against this, it's important to support salivary flow as much as possible if you experience dry mouth symptoms during treatment (as well as beyond—it's possible the damage to these glands could be permanent). Since some medications also contribute to dry mouth, you should speak with your physician about the prescriptions you're taking: if any have dry mouth side effects ask if there's an alternative drug without these side effects. You should also drink more water during the day and especially when taking medications. And consider substances like xylitol gum that can help boost saliva flow.
Unfortunately, it may not be possible to fully avoid the effects of these treatments on your teeth and gums. So, be sure you keep up daily brushing and flossing and see your dentist regularly for cleanings and checkups. If necessary, there are a number of restoration options to restore your smile after you've completed your treatment.
If you would like more information on dental care during cancer treatment, please contact us or schedule an appointment for a consultation.
By Gregory R. Bevans, DDS
February 28, 2018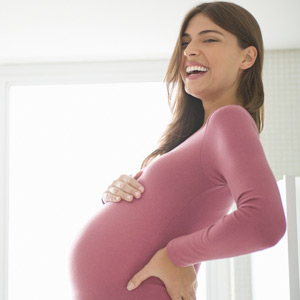 There are many health concerns when you're pregnant. And not just for you — what you eat, how you sleep or what medications or supplements you're taking all have an effect on your baby.
With so many concerns, it's easy to neglect caring for your teeth. But like other health issues, dental care affects both you and your baby and their future teeth and gum health. For both your sakes taking care of your mouth is a must.
For one thing, you're more susceptible during pregnancy to periodontal (gum) disease, an infection caused by bacterial plaque built up on teeth surfaces due to ineffective hygiene. It's believed hormonal changes increase the risk of gingivitis, the inflammation of infected gum tissues, common to expectant mothers.
Gum disease is a serious matter for anyone because of the increased risk of tooth loss. But there's another potential risk for expectant mothers: the bacteria that causes gum disease can pass through the placenta to the fetus. This can stimulate an inflammatory response from the mother that may result in a pre-term delivery and low birth weight.
There are some things you can do to protect your dental health and your baby's future health. Maintain a healthy diet with a wide range of whole foods: whole grains, fruits, vegetables, proteins and dairy products. Your doctor may also recommend iron and other supplements to reduce anemia. For the baby's dental development, be sure you're taking in sufficient calcium in your diet as well as other vitamins and nutrients. And although it's common to develop carbohydrate cravings, limit your consumption — especially sugar. Carbohydrates increase the levels of bacteria that cause tooth decay and gum disease.
Above all, practice consistent daily hygiene by brushing at least twice a day and flossing once. Be sure to visit us at least twice a year for cleanings and checkups. If you notice bleeding, swelling or redness of your gums (signs of gum disease) contact us as soon as possible.
A little extra attention to your teeth and gums while you're expecting can make a big difference in the health of your own teeth and gums, as well as build a strong foundation for your child's future oral health.
If you would like more information on dental health and care during pregnancy, please contact us or schedule an appointment for a consultation. You can also learn more about this topic by reading the Dear Doctor magazine article "Pregnancy and Oral Health."
By Gregory R. Bevans, DDS
February 13, 2018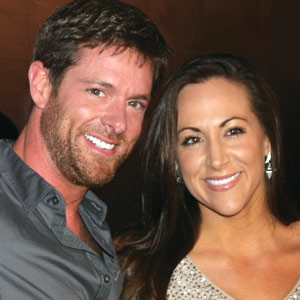 For anyone else, having a tooth accidentally knocked out while practicing a dance routine would be a very big deal. But not for Dancing With The Stars contestant Noah Galloway. Galloway, an Iraq War veteran and a double amputee, took a kick to the face from his partner during a recent practice session, which knocked out a front tooth. As his horrified partner looked on, Galloway picked the missing tooth up from the floor, rinsed out his mouth, and quickly assessed his injury. "No big deal," he told a cameraman capturing the scene.
Of course, not everyone would have the training — or the presence of mind — to do what Galloway did in that situation. But if you're facing a serious dental trauma, such as a knocked out tooth, minutes count. Would you know what to do under those circumstances? Here's a basic guide.
If a permanent tooth is completely knocked out of its socket, you need to act quickly. Once the injured person is stable, recover the tooth and gently clean it with water — but avoid grasping it by its roots! Next, if possible, place the tooth back in its socket in the jaw, making sure it is facing the correct way. Hold it in place with a damp cloth or gauze, and rush to the dental office, or to the emergency room if it's after hours or if there appear to be other injuries.
If it isn't possible to put the tooth back, you can place it between the cheek and gum, or in a plastic bag with the patient's saliva, or in the special tooth-preserving liquid found in some first-aid kits. Either way, the sooner medical attention is received, the better the chances that the tooth can be saved.
When a tooth is loosened or displaced but not knocked out, you should receive dental attention within six hours of the accident. In the meantime, you can rinse the mouth with water and take over-the-counter anti-inflammatory medication (such as ibuprofen) to ease pain. A cold pack temporarily applied to the outside of the face can also help relieve discomfort.
When teeth are broken or chipped, you have up to 12 hours to get dental treatment. Follow the guidelines above for pain relief, but don't forget to come in to the office even if the pain isn't severe. Of course, if you experience bleeding that can't be controlled after five minutes, dizziness, loss of consciousness or intense pain, seek emergency medical help right away.
And as for Noah Galloway:Â  In an interview a few days later, he showed off his new smile, with the temporary bridge his dentist provided… and he even continued to dance with the same partner!
If you would like more information about dental trauma, please contact us or schedule an appointment for a consultation. You can learn more in the Dear Doctor magazine articles "Trauma & Nerve Damage to Teeth" and "The Field-Side Guide to Dental Injuries."
This website includes materials that are protected by copyright, or other proprietary rights. Transmission or reproduction of protected items beyond that allowed by fair use, as defined in the copyright laws, requires the written permission of the copyright owners.